WYZI – Business Finder WordPress Directory Listing Theme
Wyzi Service Business Finder WordPress Theme is an advanced Social Business & Service Multi-Store Directory Theme, which targets to build a website that overcomes the gap between Businesses and Customers. Wyzi is very similar to Facebook, Linkedin, Google +, Twitter or any other social interaction website, where each business owns its own News Feed page to share with clients and other businesses.
Each Business / Service Owner can have a Business Wall and post Business Statuses, share their News, Updates, Images & Videos, just like any Social Media Website, plus sell Products. Business Owners have their own frontend profile. Customers can Like & Comment on Business Owners Statuses for direct interactivity between Businesses & Clients.

No Paid Plugin Required to Get All This
Extraordinary Features
Unlimited Businesses / Services Listing Pages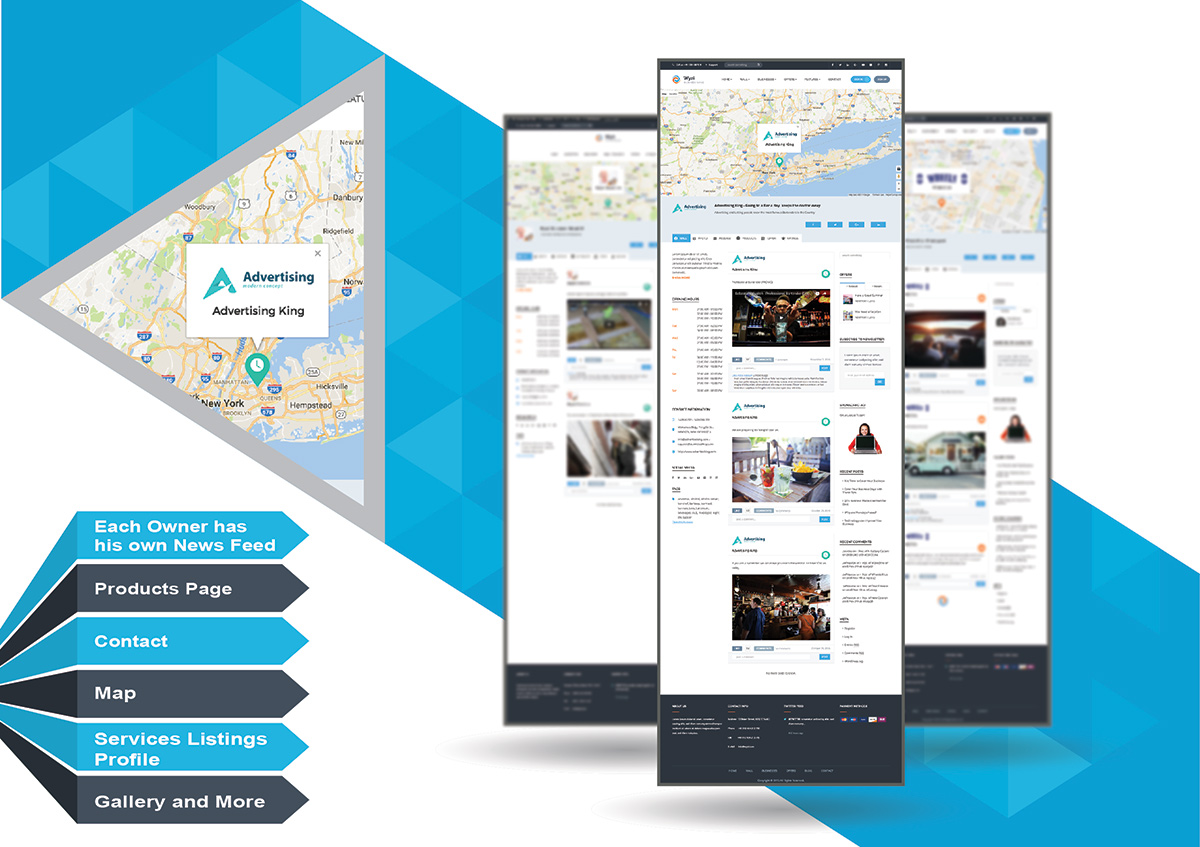 Admin can create unlimited number of Businesses Listings and assign each Business to a Business Owner or a Business Owner can create a Business Listing using Frontend Submission.
Control your Map Directory Icons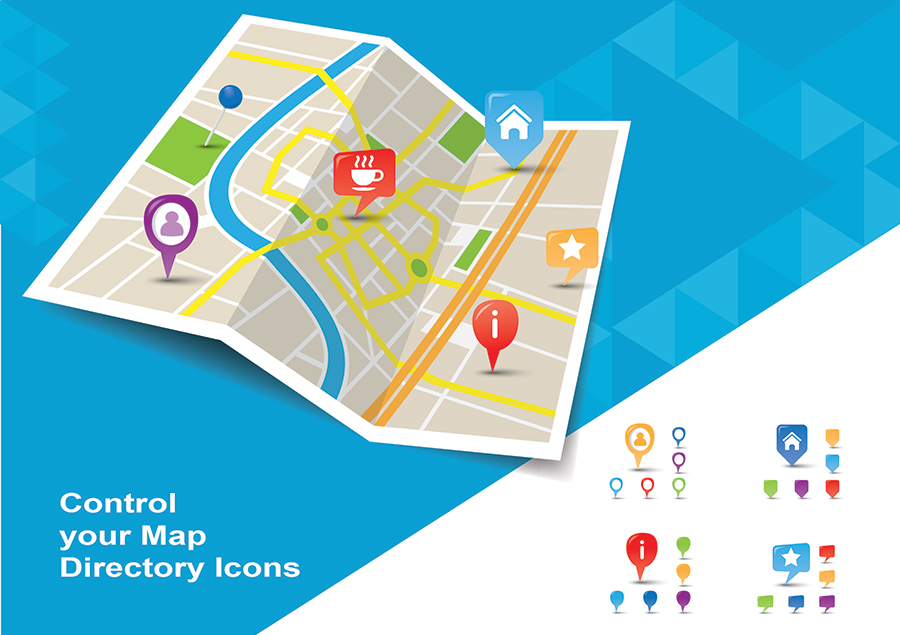 You can specify you Map Points Color and Icon for each Category to help your customers find what they are looking for quicker and easier. Changing Pointer Color and Icon can be done by Admin with no code at all.
Creating Social Media Like Statuses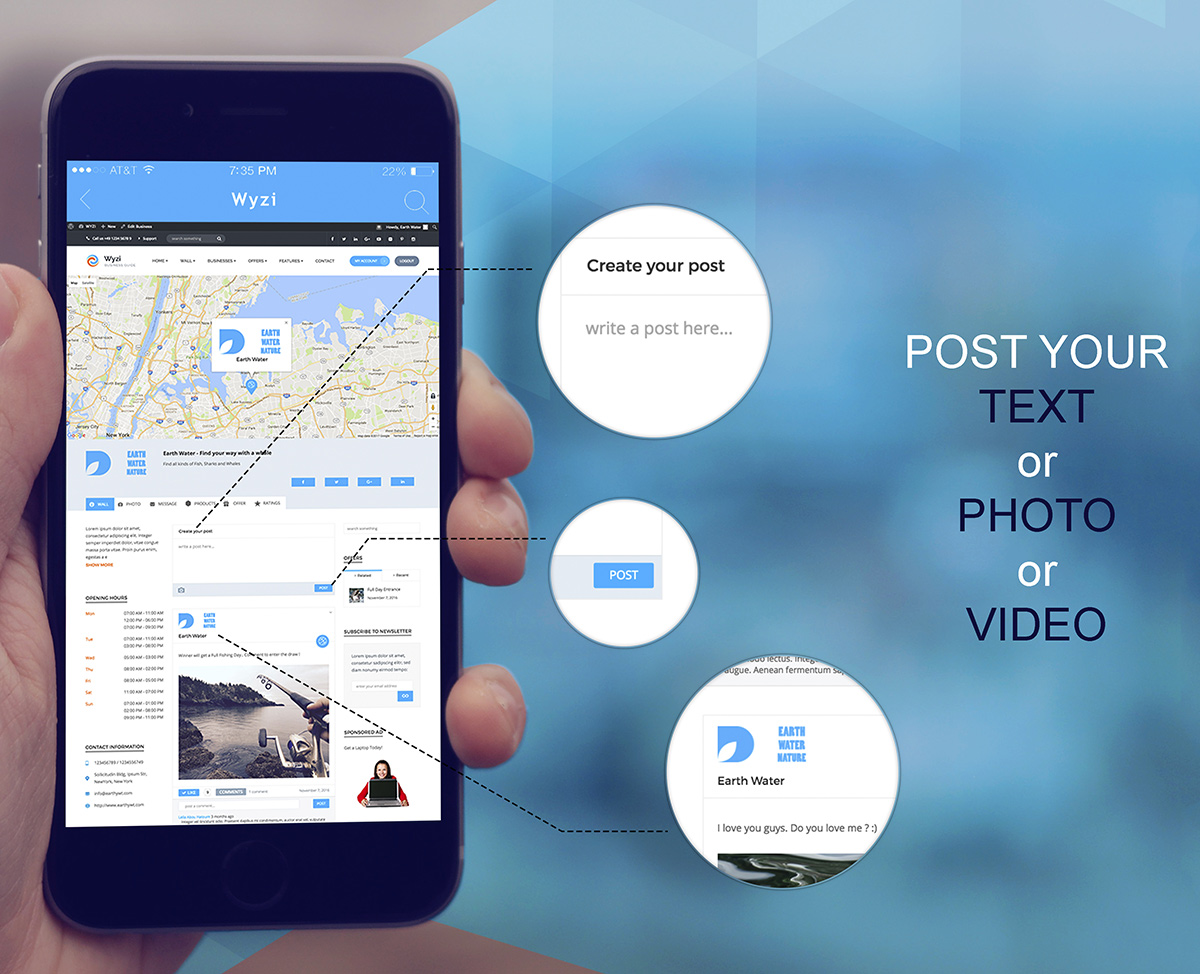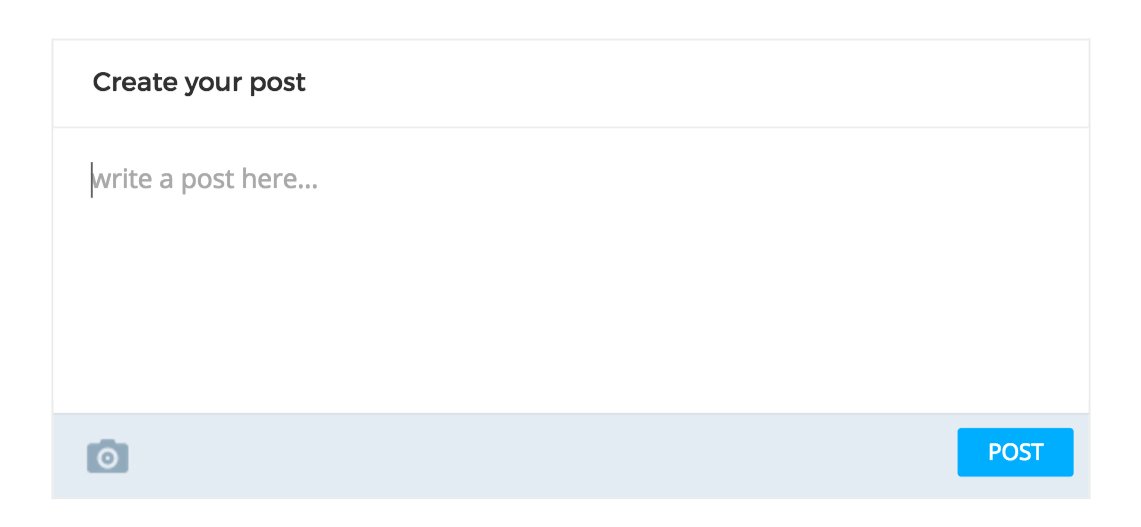 Each Business Owner can create his own Statuses and Posts, with or without an image or Video to be shown on your website general wall, which will increase interactivity on your website.
Like and Comment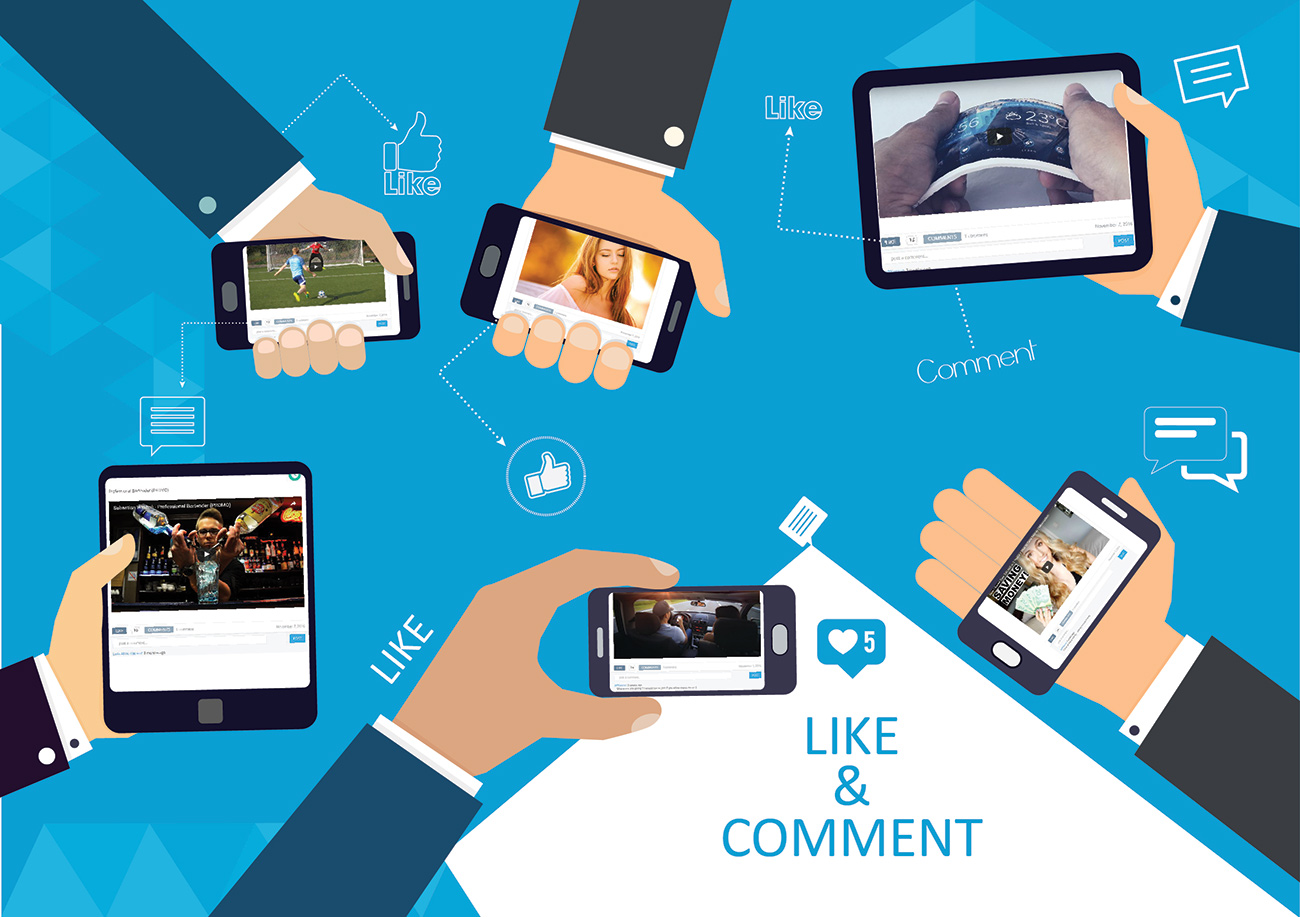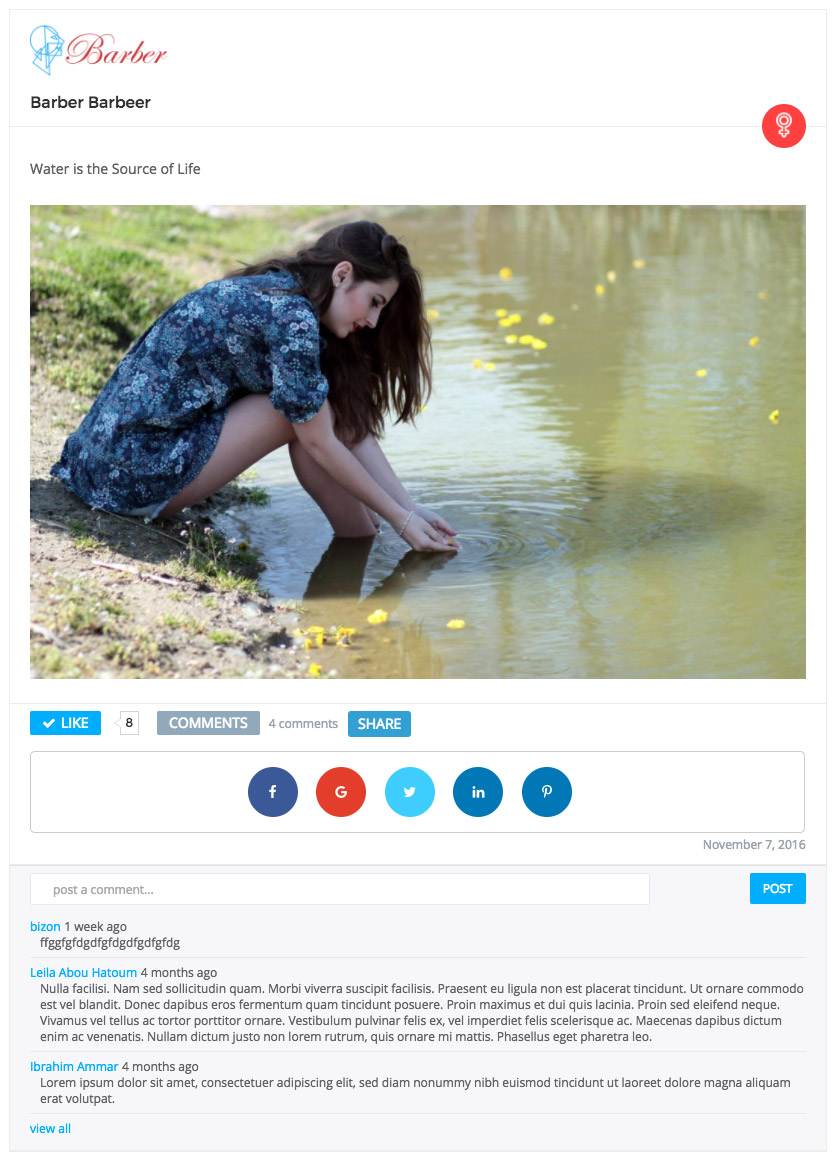 Clients and Business Owners can Like, Comment & Share Statuses created.
Multi-Vendor WooCommerce Stores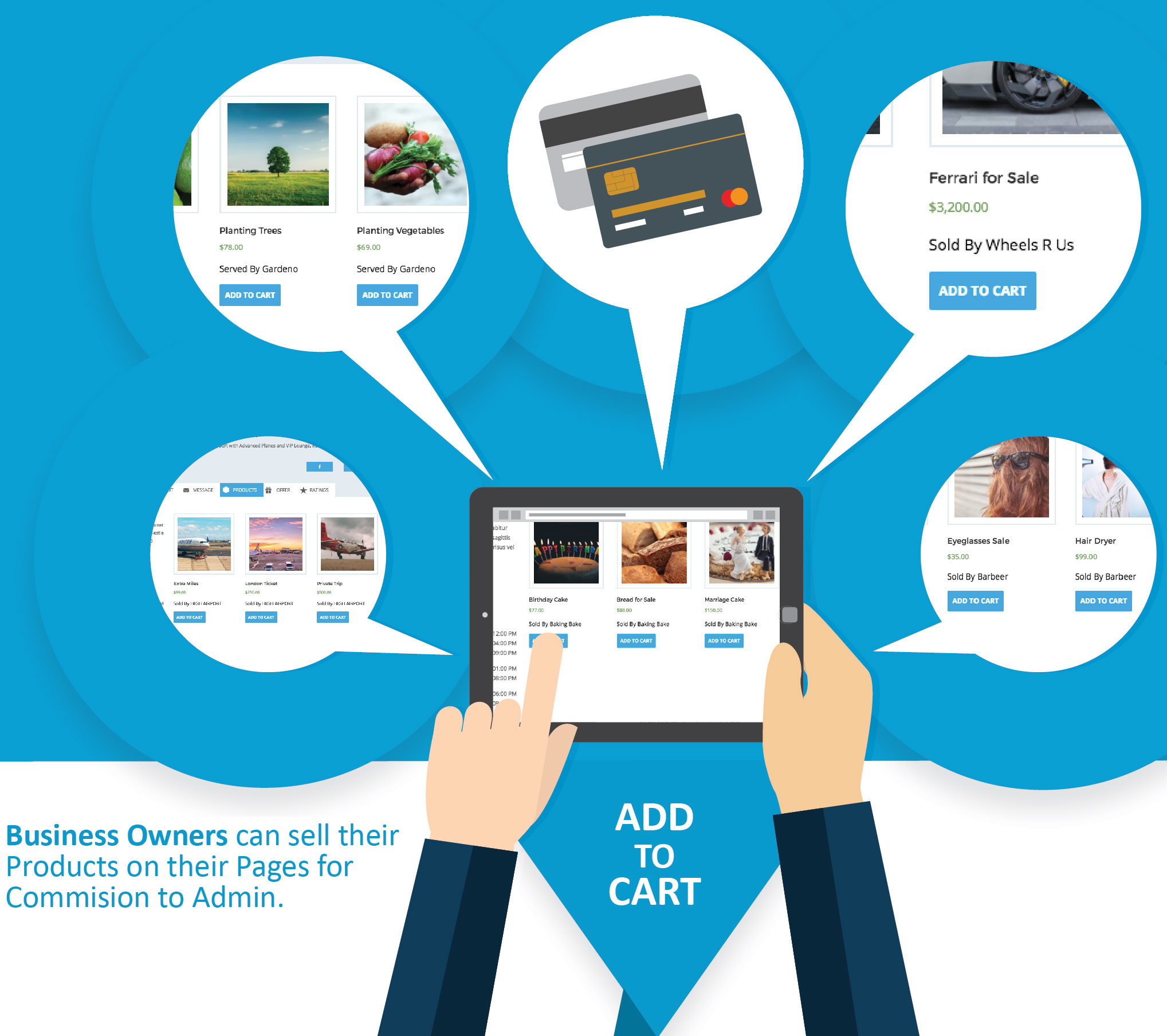 Opening Closing Times Submission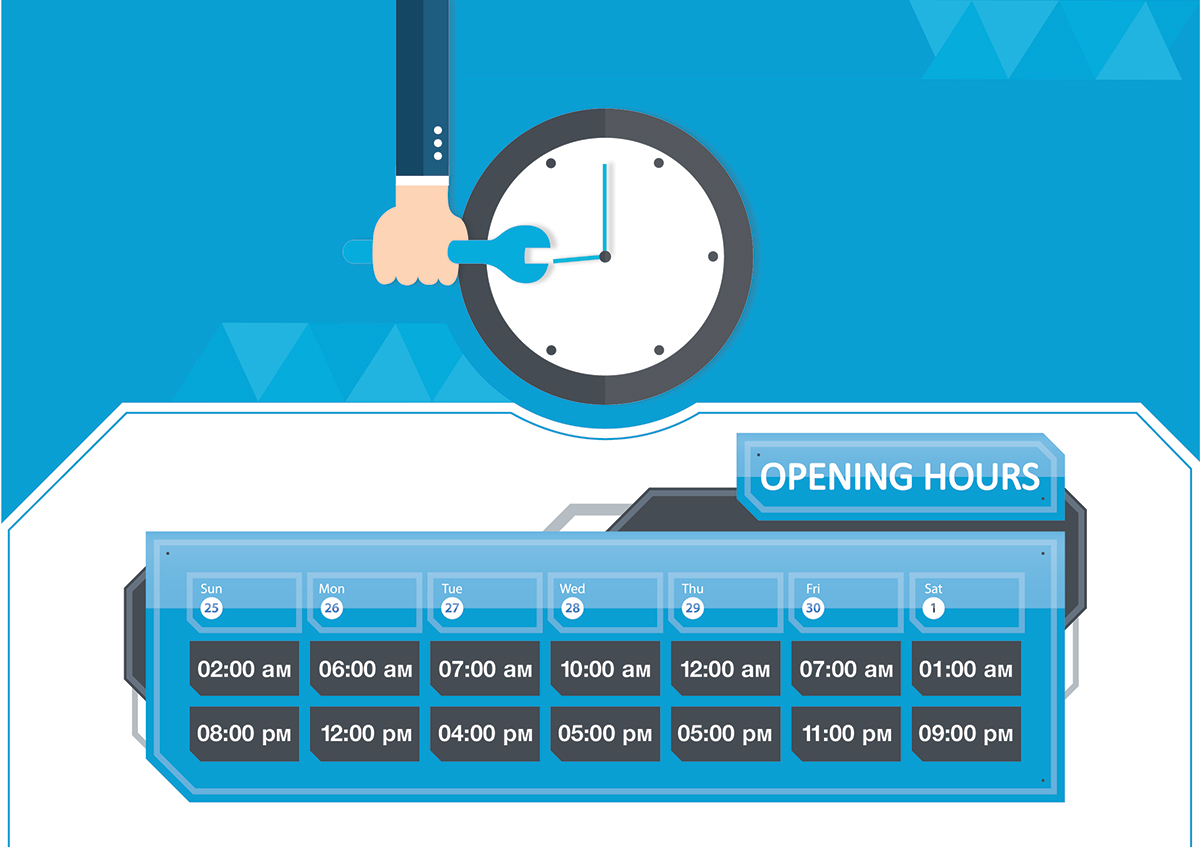 Each Business or Service Provider can specify his opening or availability times while creating his submission or updated later.
Front End Business / Service Provider Listing Submission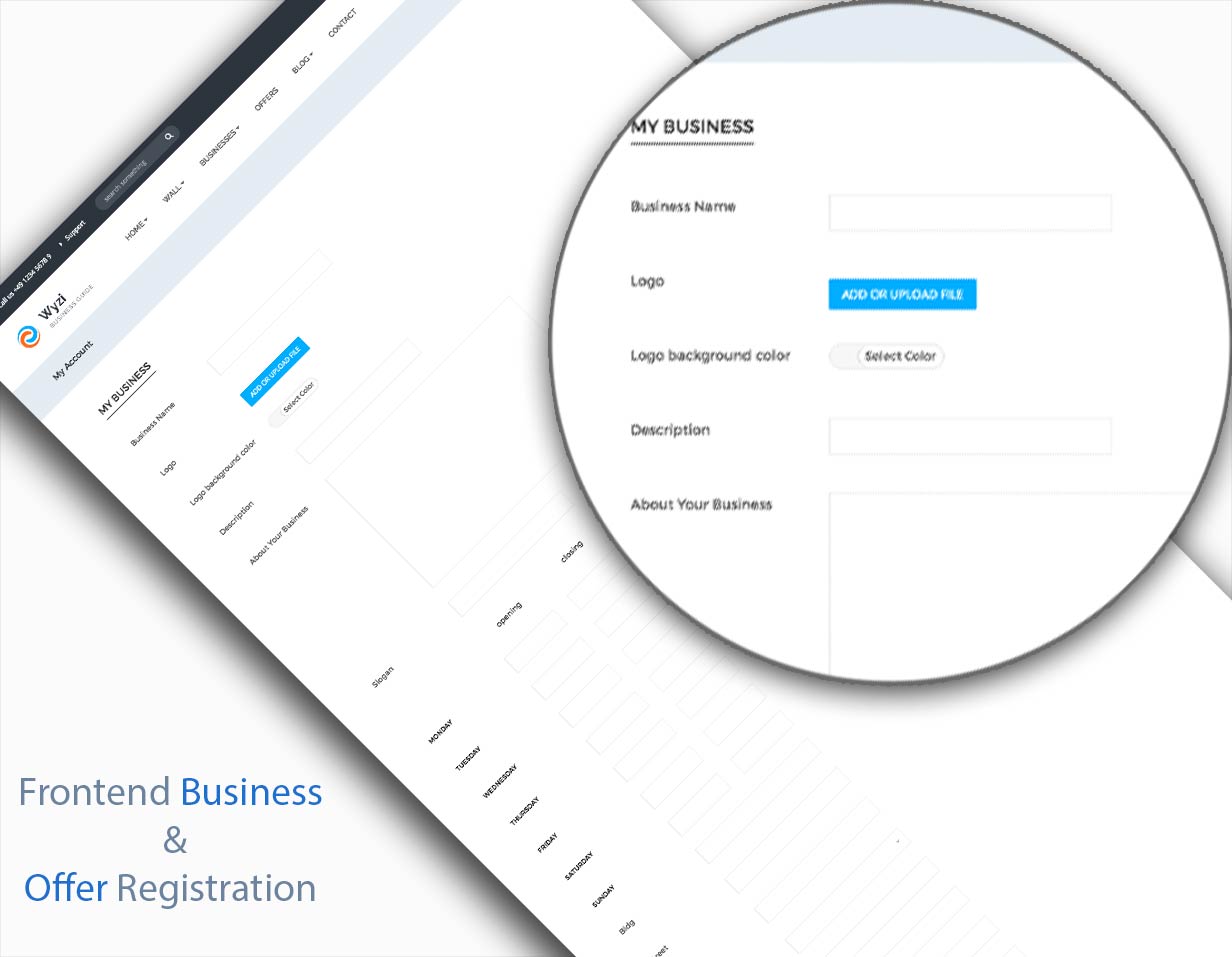 Advanced Listing Ratings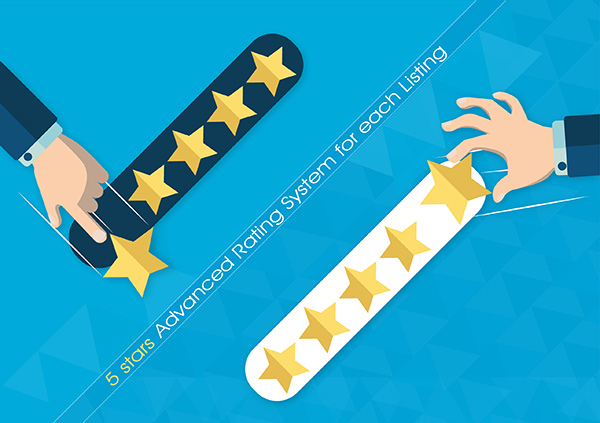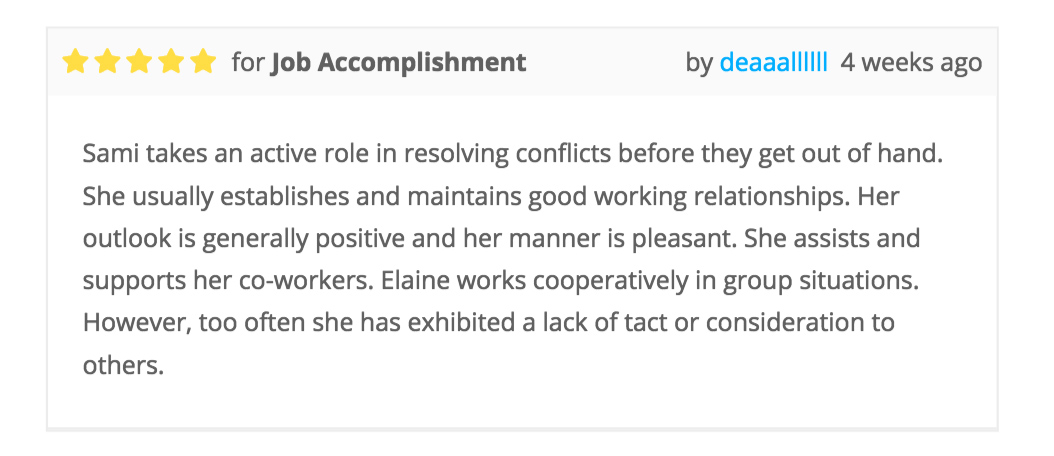 Clients can rate Businesses in a specific category and leave a comment describing their rate.
Earn Money with Wyzi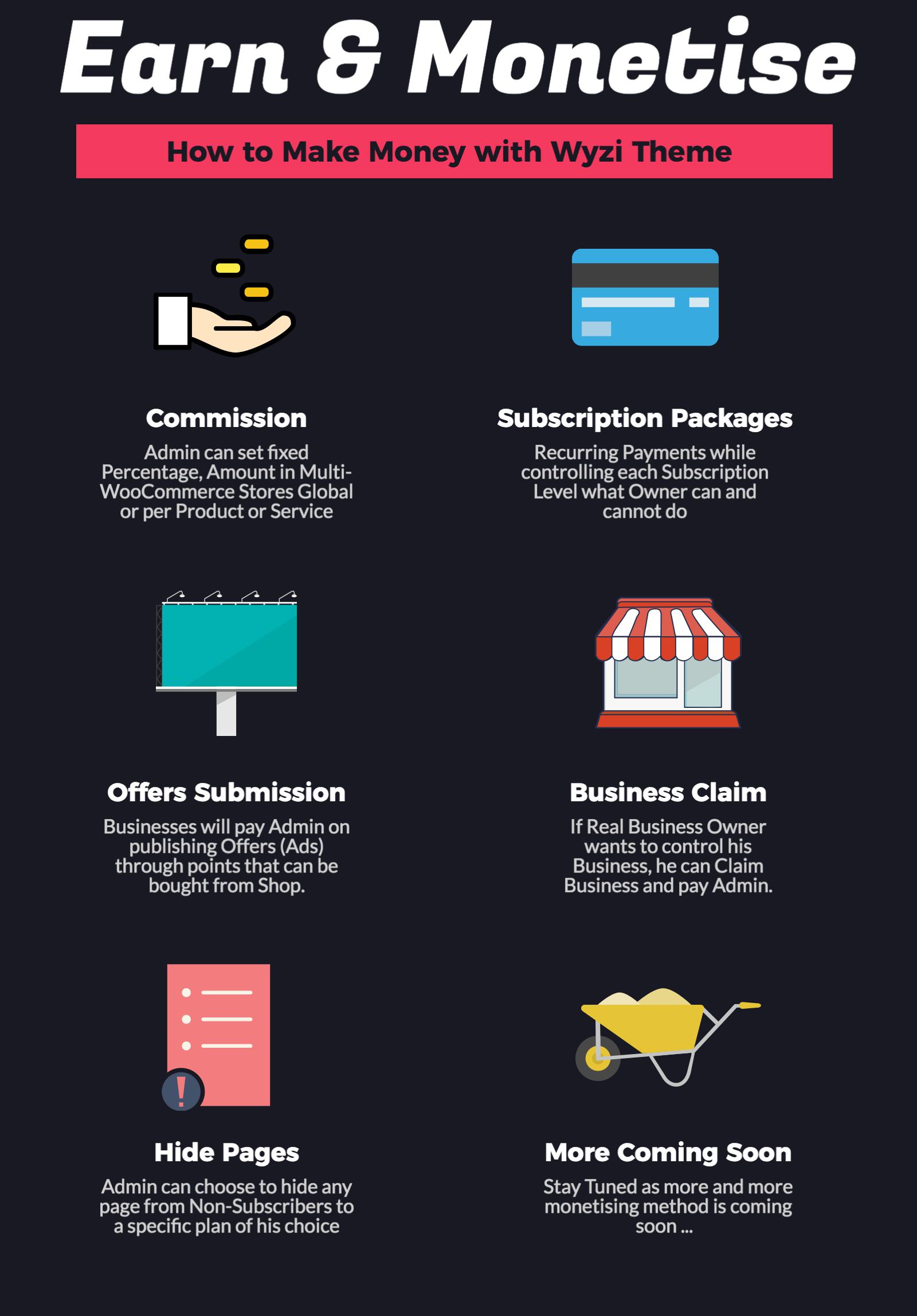 Customer Reviews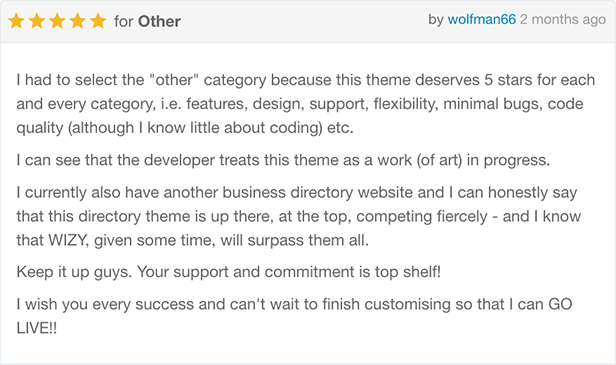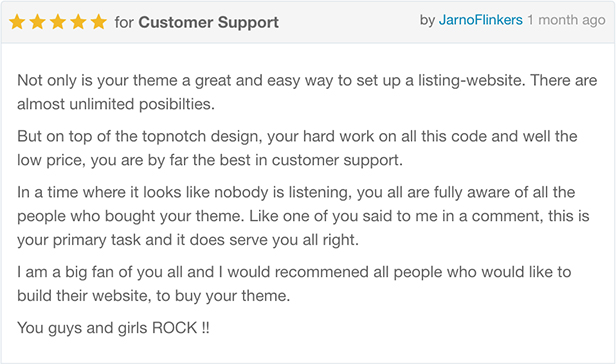 One Click Install and Amazing Demos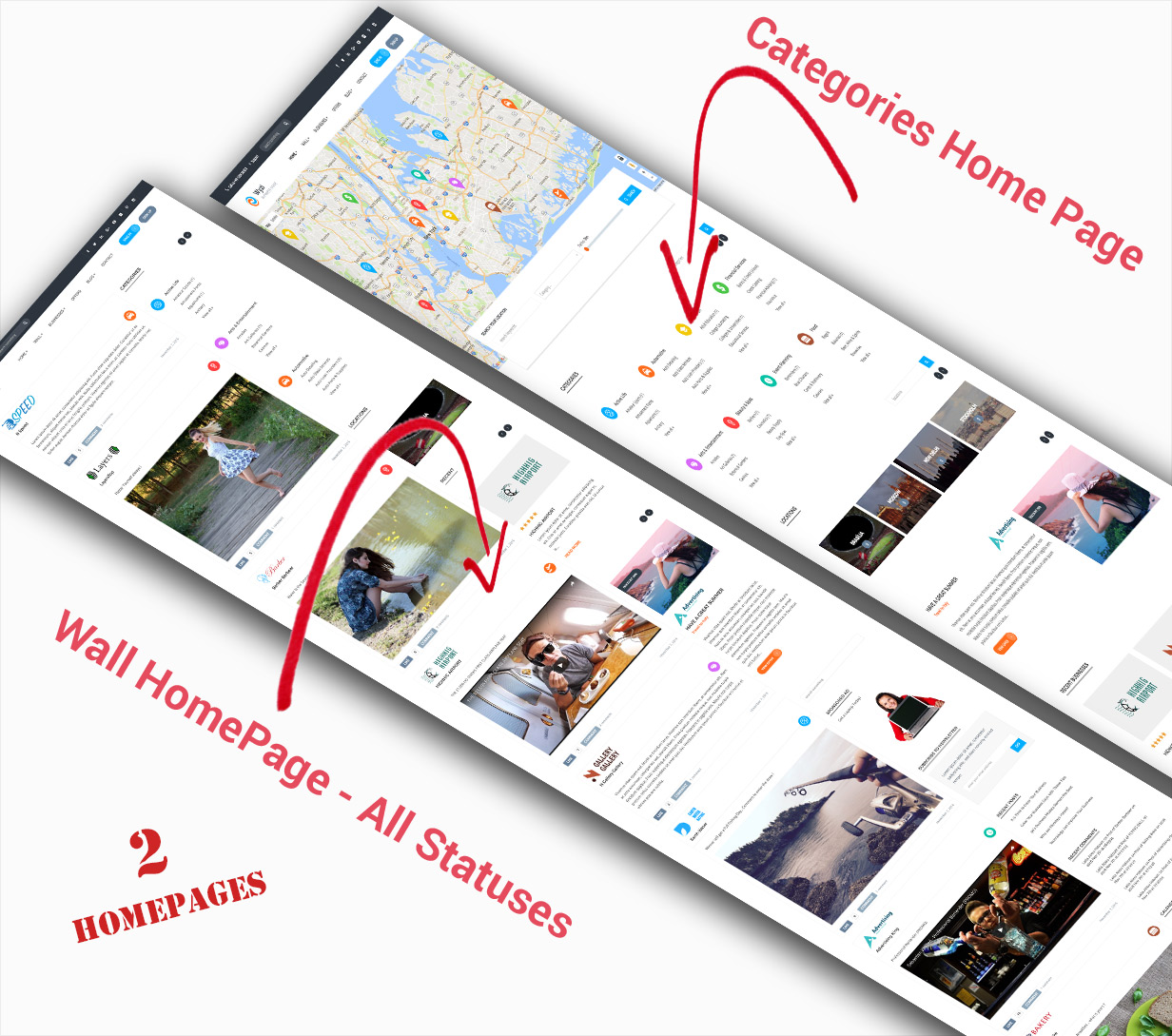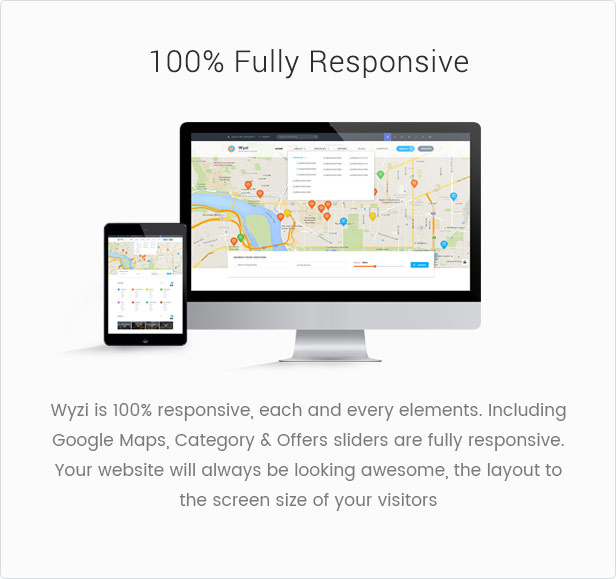 Features

Earn Money Details
1) Businesses can Sell Products and Admin gets commission in multi-WooCommerce Stores. All payments will go to Admin and then he can pay Businesses through PayPal or Bank Accounts Transfers. Products are submitted to Admin for Approval. Commission can be Global or on a Product Basis.
2) Subscription Packages can be created by Admin for Business / Services Owners to choose from, using Paid Memberships Pro plugin. You will be able to choose one of the following Payment Gateways : Pay By Check, Stripe, Paypal, Authorize.net, Braintree, 2checkout or Cybersource.
3) Businesses will pay Admin on Business Creation or on publishing Offers (Ads) through points that can be bought from Shop. Fully Compatible with WooCommerce to receive payments through PayPal, Stripe or any desired payment gateway.
4) Admin can create unlimited Businesses and when Business owner wants to control his business, he can Claim business and pay Admin.
5) Admin can choose to hide any page from Non-Subscribers to a specific plan of his choice.
See all Features Details on Online Documentation.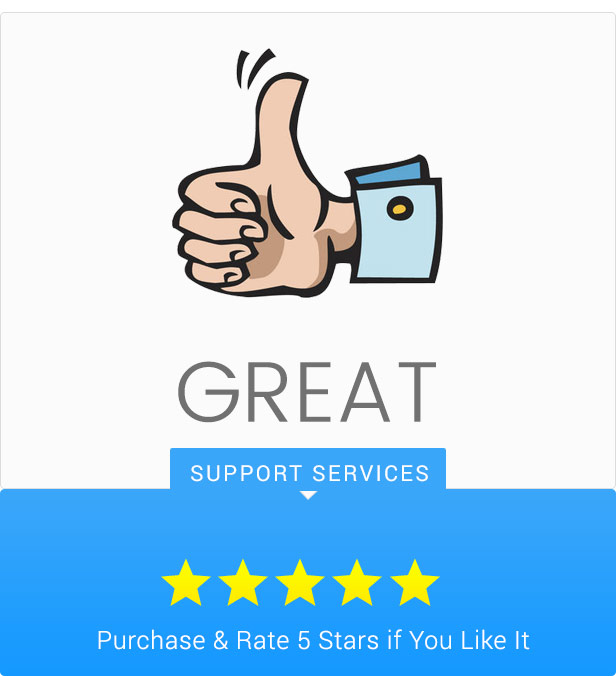 Wyzi Change Log

Version 1.4.4 - 10 April 2017
- Update: WooCommerce 3.+ Compatibility for problems caused in Products with Points
- Update: Visual Composer to version 5.1.1

Version 1.4.3 - 6 April 2017
- New Feature - The ability to choose default location in image search field
- New Feature -  Transfering Points between Users
- New Feature - The ability to edit Business Post after Posting by Business owner from FrontEnd
- New Feature - Business Post Social Media Sharing
- New Feature - 24 Hour Format in Business Wall Sidebar's Opening Hours Widget
- New Feature - Ability to hide user role dropdown on registration page
- New Feature - Ability to choose Default user role on registration ( Business owner or Client )
- New Feature - The ability to choose default location in map search field
- Fix - My Account page not appearing when wc marketplace is not active
- Fix - Header Image is not mobile friendly
- Fix - Business archives page not filtering properly according to tags and categories
- Fix - Map search issue
- Fix - Username created on login with facebook is now more user friendly
- Fix - Improved image search form functionality
- Fix -  Javascript error in single offer page
- Fix - Custom css issue with child theme
- Fix - Business Wall mail now sends to business owner and contact form's 'to' field in Contact Form 7 in addition to business owner email
- Fix - Error in site header when not all required plugins are active
- Update - New facebook SDK

Version 1.4.2 - 19 March 2017
- New Feature: Business custom fields are now editable in the backend business creation page
- Fix: Business posts grid look display issue fix
- Fix: Map in single Business page isn't disabled when you set the option to disable it.
- Fix: All products showing up in products tab in single business page
- Fix: Registration email sent to users missing last character in the header
- Fix: Header buy points link doesn't work on sub-domain sites

Version 1.4.1 - 16 March 2017
- Fixed issues with Single Business Listing Display ( About and Wall Tabs )

Version 1.4 - 15 March 2017
-New Feature - Listing can be made Featured Listings 
- New Feature - Admin can add now Custom Fields to Business Listing Submission 
- New Feature - New Tab in Business Single Listing Page to Display Custom Fields
- New feature: Business tabs are now controllable: set custom title, order and set which tab is active by default. 
- New Feature - New Styles for Memebership Subscription Levels Layout ( Vertical Layouts ) 
- New Feature - Subscription Levels Shotcode added as Visual Composer Element
- New Feature - Subdivided Business / Service Listing Submission Pagination into Tabs instead of one Long Page.
- New Feature - WPML Compatibility and Approved by Official WPML Owners
- New Feature: Custom notification boxes instead of using the browser's alert.
- New Feature: Business Listing Message became Contact Form 7 Controlled 
- New Feature: Limit Businesses shown on map to one location on page load.
- New Feature: Available Subscription levels appear in User Account Page if Subscrption mode is ON
- New Feature: Demo Import imports options now as well
- New Demo: Real Estate Demo
- Optimization:  Single business data is now a class, with refactored code.
- Fix: 'Show Less' in single business sidebar is now translatable.
- Fix: Global map now shows custom category icon (before, it didn't show the category icon you select from the dropdown in business on creation, Gabor's issue)
- Fix : Pending Businesses can no longer publish posts and offer
- Update : Revolution Slider to version 5.4.1
- Update : Visual Composer Update to version 5.1

Version 1.3.8 - 24 Feb 2017
- New - One Page Demo Business 
- New Feature - One Page Site Template for Any Business
- Fix - Fixed bug in displaying custom css
- Fix - Fixed bug that caused the map sometimes to be stuck at loading on initial page load
- Fix - Fixed bug that caused compatibility issues with bbpress

Version 1.3.7 - 20 Feb 2017 ( You asked, We listened ) 
- New Feature - Bundled Revolution Slider Plugin
- New Feature - Page ability to put Image Instead of Map with search Directory Ability Overlay
- New Feature - Facebook & Google+ Login / Sign Up Capabilities
- New Feature - Search by Location in Global Map
- New Feature - Filtering Capabilities in Business Listings of Archives as a Widget
- New Feature - Searching Map By Location and Radius Kilometers
- New Feature - Bundled Auto Update Envato Plugin, so Wyzi Theme can be updated directly from WordPress
- New Feature - Locations CPT added WYSIWYG that appears in Location CPT Page
- New Feature - Location Slider new Option link to Business Archives or to Locations CPT
- New Feature - Location CPT added map Coordinates to link Locations CPT with actual Map Locations
- New Feature - Google Fonts Integration
- New Feature - Main Map Loader Icon that appears while Businesses are Loading
- New Feature - Added "Terms and Condition" message under Signup Page with Auto Creation of Terms and Condition 
- New Feature - Added "About" tab in Single Business Page
- New Feature - Single Business Description can be now in HTML with WYSIWYG support
- New Feature - Admin can charge points for Business Posts creation
- Fix - Map Bug when Business Number is large
- Fix - Perfomance Optimisation 
- Fix - Business Categories Slider Number of Rows fixed when it is set to one
- Fix - "Show More" and "No More Posts to Show" added to translatable Texts
- Fix - Spelling Mistakes
- Fix - Business Pagination bug
- Fix - User cannot delete Image bug

Version 1.3.6 - 6 Feb 2017
Fix - Business Message Email sometime was not delivered 
Fix-  Removing Space between Email Title and Email Subject in  Message on Single Listing Page
Fix - Rating a Listing was not rating on some circumstances
Fix - Offers Business Ownership Display all Businesses instead of latest 10
Fix - Bug that caused incorrect correlation between business and it's offers
Fix - CPT_LOCATIONS Name is not being defined, which caused Locations CPT to disappear in some situations
Fix - Capabilities is not being set to each one of CPTs ( Locations, Business Posts, Ratings & Claim ) to make sure nothing disappears 

Version 1.3.5 - 1 Feb 2017
- Fix - Business Message Email not arriving when Business Owner is the Admin

Version 1.3.4 - 30 January 2017
- New Feature - Paid Subscription using Paid Membership Pro Plugin that make Business Owners pay to  Admin on a recurring Basis
- New Feature - Hide Specific Pages from non-subscribers for specific plans
- New Feature - Option to Hide or Show Map from Single Businesses Display and Single offers Display
- New Feature - Send email notification to Admin when a New Business Listing is submitted
- New Feature - If a business is assigned to parent category by Admin, it will appear on Map just like any other Business /Service
- Fix - Mail Sent HTML Tags bug
- Fix - Available Points in Business Owner Account was not appearing on registration 
- Fix - The word Buy Points in Account Page is now Translatable
- Fix - Contact Emails at submission of the Business is sent in HTML now instead of plain text
- Fix - Posts Ajax Commenting responsiveness adjustment to look better 
- Fix - Added initial Email Template for Messaging a Business / Service 
- Fix - Offers cannot be edited from Backend

Version 1.3.2 - 26 January 2017
- Bug fix on importing Demo Content

Version 1.3.1 - 24 January 2017
- New Feature - Posting Comments on posts is now done under Posts same page by Ajax
- New Feature - Products Tab in Single Business Page Custom Re-Naming Ability
- Fix - Warnings appear if you don't have business categories selected
- Fix - Map Category Search Bug

Version 1.3.0 - 19 January 2017
- New Feature - Business owners can become Vendors to sell their own products and Admin gets Commission through the use of WC Marketplace Plugin.
- New Feature - Claim Business Form
- New Feature - Claim Business Form Submission Cost
- New Feature - Admin can change Business Owner from backend
- New Feature - Locations CPT Renaming Ability
- New Feature - Multi Sub Categories for Business - Can be done by Admin or Business owner
- Fix - Map Search for Category only Selected
- Fix - Reset Password Bug

Version 1.2.1 - 10 January 2017
- New Feature - Map Search Enhanced Drastically users can search by business excerpt, slogan, tags, name, location, and any combination of these mentioned above. Additionally, to filter by specific location, just type the search phrase followed by in location name for additional filtration by location.
- New Feature - Mile option is added in Map
- On Pressing Enter in Map Search, Search is triggered
- WooCommerce Tab in Profile made Optional from Wyzi Toolkit Options
- "Opening Hours" Text in Business / Service Wall Page made editable
- Number of Reviews appear on Ratings Tab beside overall rate stars
- Fixed on Business Delete all related posts and offers and ratings are deleted
- Fixed Bug where disabling business registration is not working 
- Fixed a bug where search query on map causes a warning sometimes
- Fixed Scroll to Top on Internet explorer
- Fixed existing users to login if deactivated registration for new users

Version 1.2.0 - 4 January 2017
- New Feature - Advanced Rating System for single Business
- New Feature - Multi-Open Close Time for single Business
- New Feature - Business Posts/ Offers CPT re-naming
- New Demo - Wyzi Service Finder
- Enhancement - Advanced Demo Import System 
- Enhancement - WooCommerce Account appears now in Account Page
- Fix - Pending Business will subtract points when updated
- Fix - Available Points appear clearer in Account Page
- Fix - Search bug fix in Map Search
- Fix - Phone Number made text not number for any format
- Fix - Building is not required in Business Creation
- Fix - Upon Creating Offers, number of required points is presented
- Css Fixes

Version 1.1.0 -  27 December 2016 
- New Feature - WooCommerce Theme Integration
- Business Owners can View their Available Points in Account Page Directly
- Fixed Login Menu Bug that prevented creating more Menu Items
- Fixed 'break' not in the 'loop' or 'switch' context bug in class-offers-tabs-widget.php

Version 1.0.5 -  20 December 2016 
- New Feature - Business Listing as Grid View
- Fixed a bug that prevented from creating business listings pages.

Version 1.0.3 - 18 December 2016
- New Feature - Business Listing (connecting Map Business with Businesses Displayed underneath )
- Enhanced Map Search to search among Business Name or Slogan or Description. 
  Example 
  Search for "Websites Development in NewYork" in map search keywords

Version 1.0.1 - 16 December 2016
- New Feature - Offers Tab in Single Business Pages.