WYZI – Social Business Finder WordPress Directory Theme
Wyzi Business Finder WordPress Theme is an advanced Social Business & Service Multi-Store Directory Theme, which targets to build a website that overcomes the gap between Businesses and Customers. Wyzi is very similar to Facebook, Linkedin, Google +, Twitter or any other social interaction website, where each business owns its own News Feed page to share with clients and other businesses.
Each Business / Service Owner can have a Business Wall and post Business Statuses, share their News, Updates, Images & Videos, just like any Social Media Website, plus sell Products. Business Owners have their own frontend profile. Customers can Like & Comment on Business Owners Statuses for direct interactivity between Businesses & Clients.
Earn Money
1) Businesses can Sell Products and Admin gets commission in multi-WooCommerce Stores. All payments will go to Admin and then he can pay Businesses through PayPal or Bank Accounts Transfers. Products are submitted to Admin for Approval. Commission can be Global or on a Product Basis.
2) Businesses will pay Admin on Business Creation or on publishing Offers (Ads) through points that can be bought from Shop. Fully Compatible with WooCommerce to receive payments through PayPal, Stripe or any desired payment gateway.
3) Admin can create unlimited Businesses and when Business owner wants to control his business, he can claim business and pay Admin.
See all Features Details on
Online Documentation
.
Customer Reviews


Extraordinary Features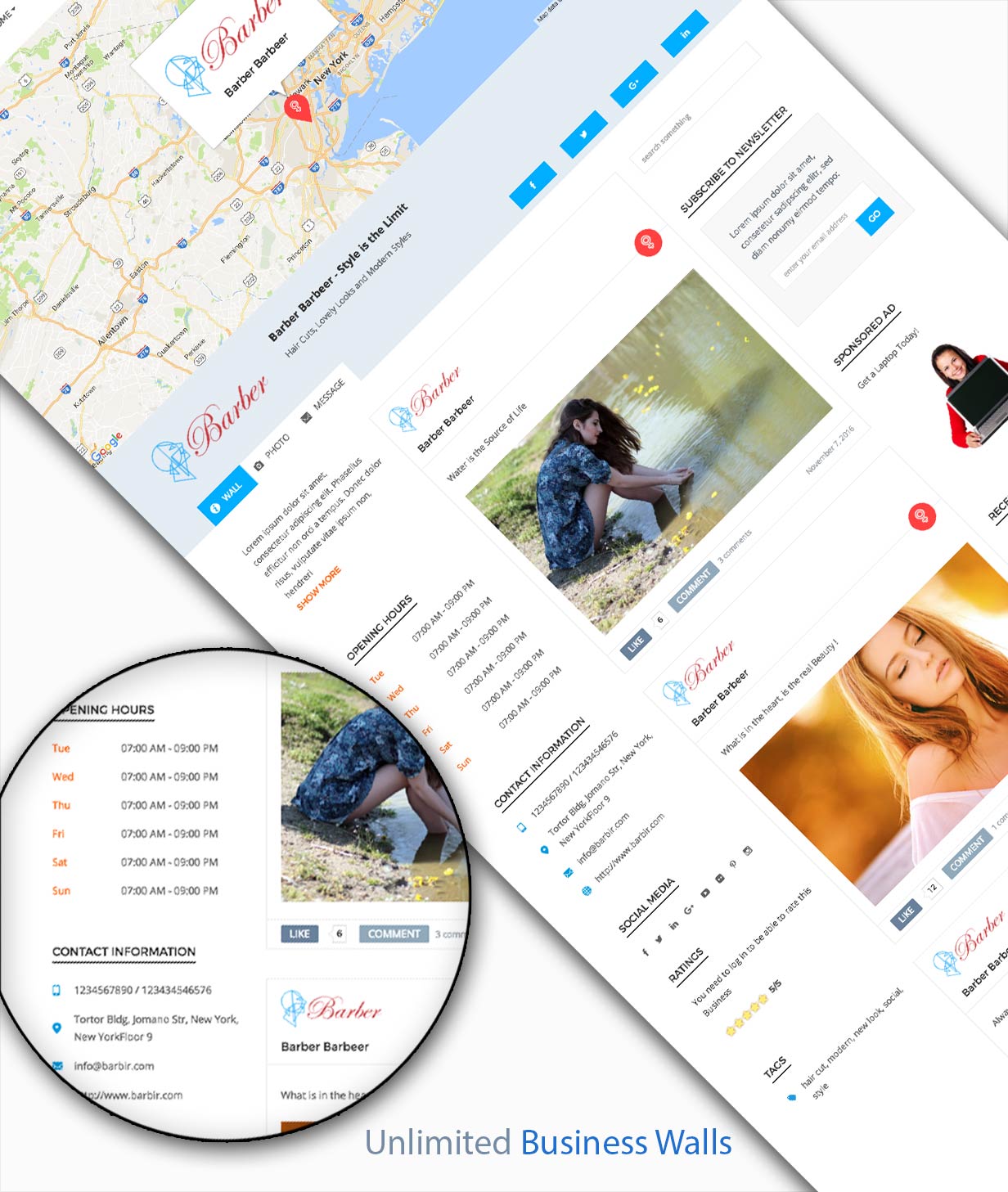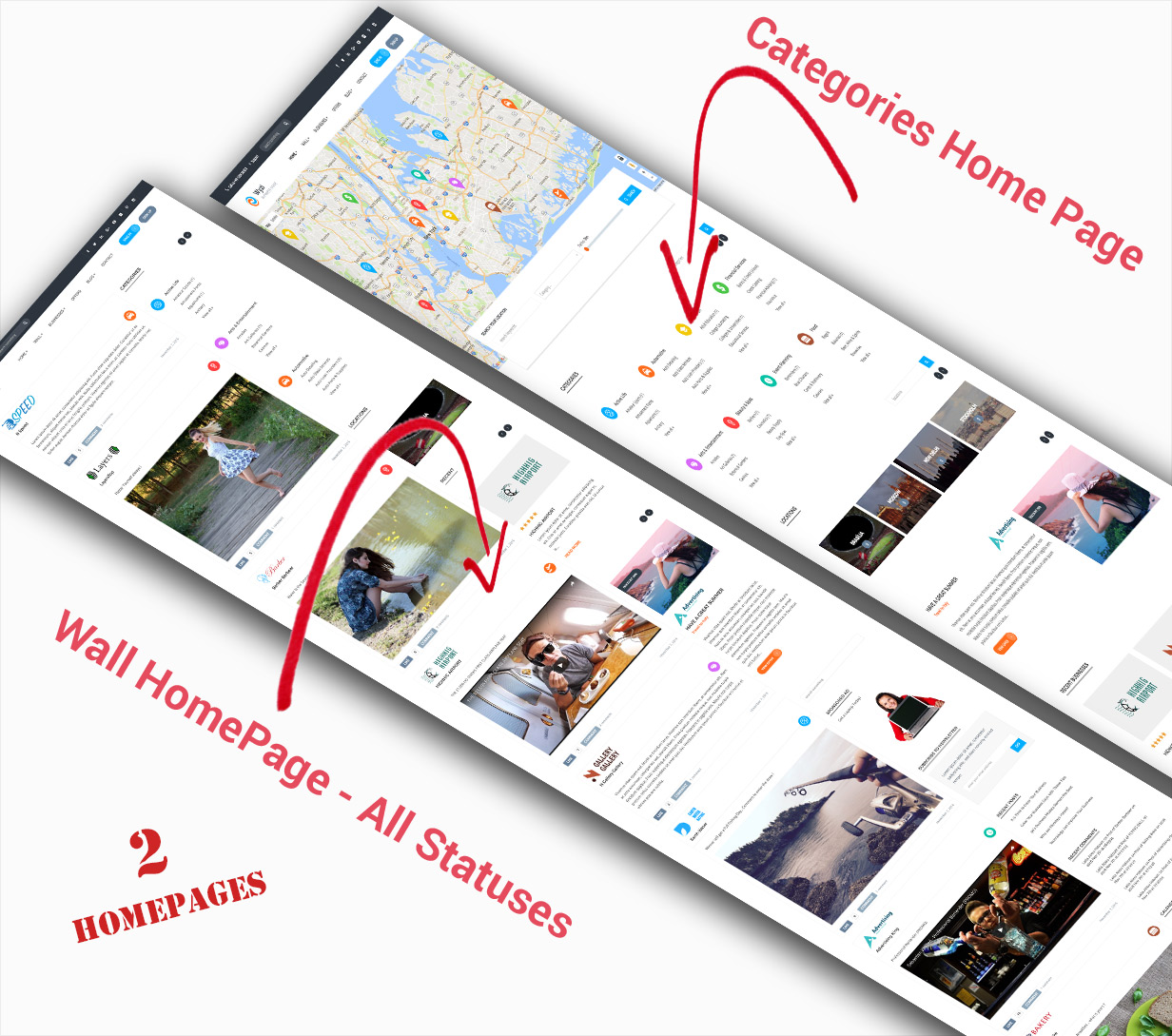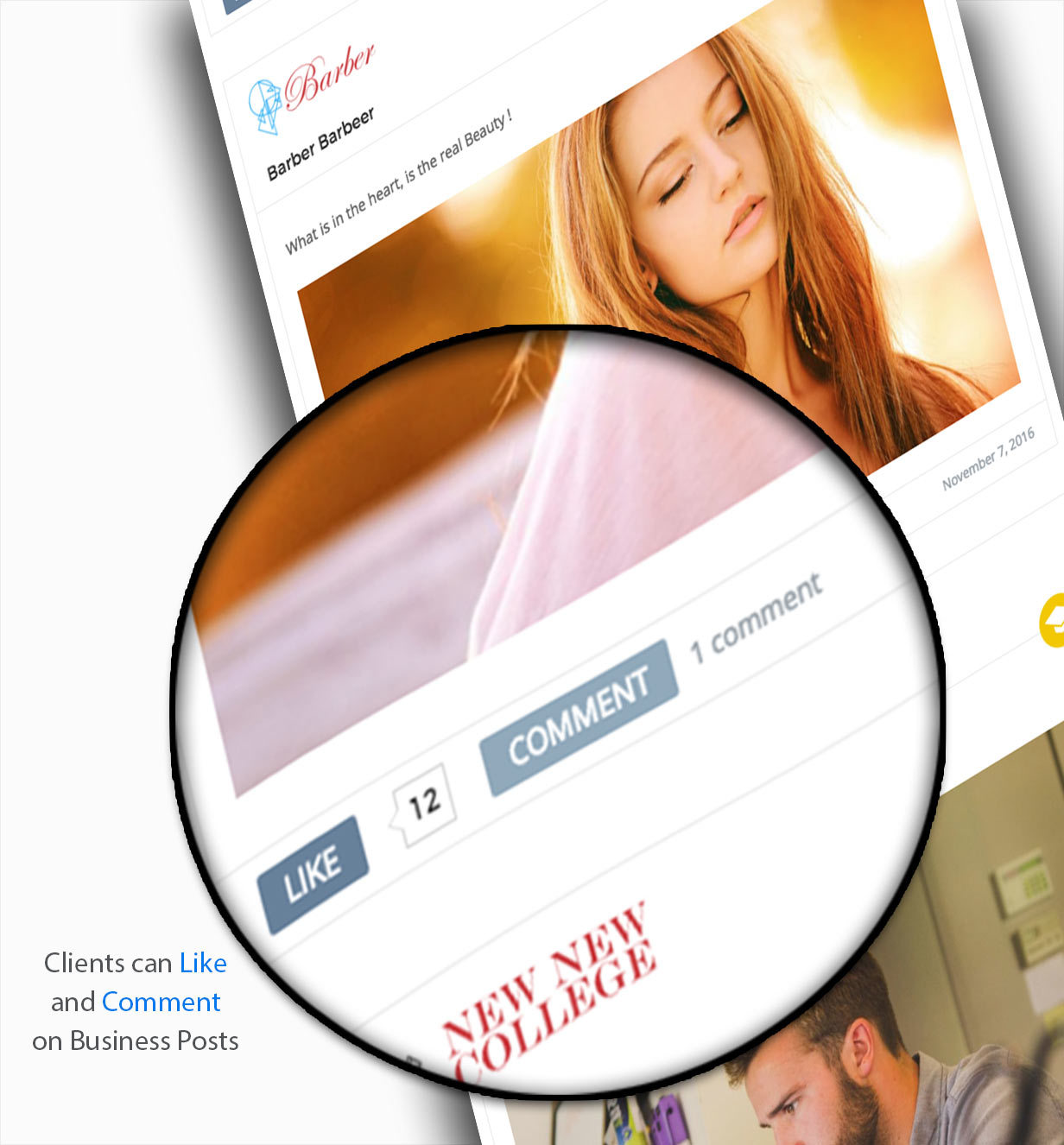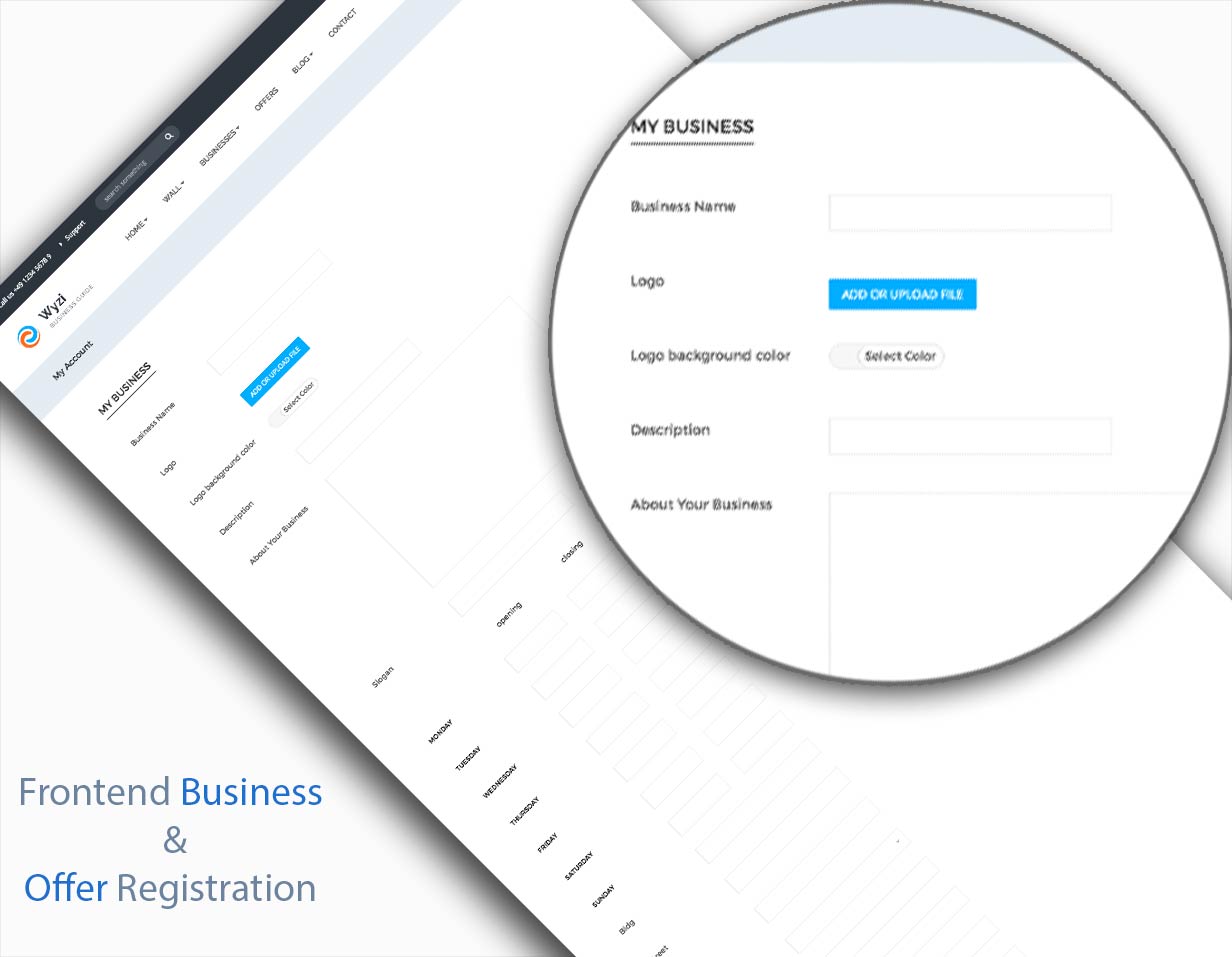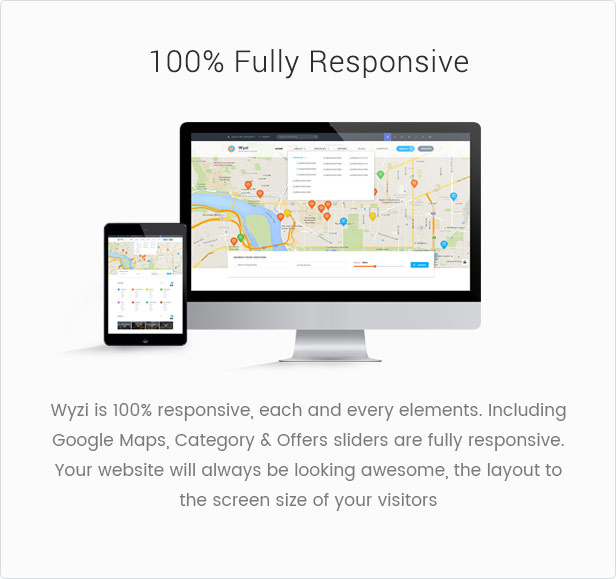 Features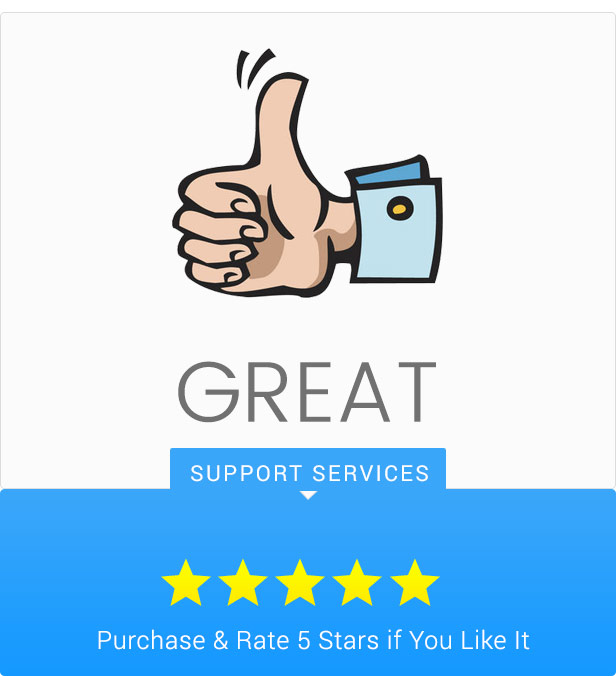 Wyzi Change Log

Version 1.3.0 - 19 January 2017
- New Feature - Business owners can become Vendors to sell their own products and Admin gets Commission through the use of WC Marketplace Plugin.
- New Feature - Claim Business Form
- New Feature - Claim Business Form Submission Cost
- New Feature - Admin can change Business Owner from backend
- New Feature - Locations CPT Renaming Ability
- New Feature - Multi Sub Categories for Business - Can be done by Admin or Business owner
- Fix - Map Search for Category only Selected
- Fix - Reset Password Bug

Version 1.2.1 - 10 January 2017
- New Feature - Map Search Enhanced Drastically users can search by business excerpt, slogan, tags, name, location, and any combination of these mentioned above. Additionally, to filter by specific location, just type the search phrase followed by in location name for additional filtration by location.
- New Feature - Mile option is added in Map
- On Pressing Enter in Map Search, Search is triggered
- WooCommerce Tab in Profile made Optional from Wyzi Toolkit Options
- "Opening Hours" Text in Business / Service Wall Page made editable
- Number of Reviews appear on Ratings Tab beside overall rate stars
- Fixed on Business Delete all related posts and offers and ratings are deleted
- Fixed Bug where disabling business registration is not working 
- Fixed a bug where search query on map causes a warning sometimes
- Fixed Scroll to Top on Internet explorer
- Fixed existing users to login if deactivated registration for new users

Version 1.2.0 - 4 January 2017
- New Feature - Advanced Rating System for single Business
- New Feature - Multi-Open Close Time for single Business
- New Feature - Business Posts/ Offers CPT re-naming
- New Demo - Wyzi Service Finder
- Enhancement - Advanced Demo Import System 
- Enhancement - WooCommerce Account appears now in Account Page
- Fix - Pending Business will subtract points when updated
- Fix - Available Points appear clearer in Account Page
- Fix - Search bug fix in Map Search
- Fix - Phone Number made text not number for any format
- Fix - Building is not required in Business Creation
- Fix - Upon Creating Offers, number of required points is presented
- Css Fixes

Version 1.1.0 -  27 December 2016 
- New Feature - WooCommerce Theme Integration
- Business Owners can View their Available Points in Account Page Directly
- Fixed Login Menu Bug that prevented creating more Menu Items
- Fixed 'break' not in the 'loop' or 'switch' context bug in class-offers-tabs-widget.php

Version 1.0.5 -  20 December 2016 
- New Feature - Business Listing as Grid View
- Fixed a bug that prevented from creating business listings pages.

Version 1.0.3 - 18 December 2016
- New Feature - Business Listing (connecting Map Business with Businesses Displayed underneath )
- Enhanced Map Search to search among Business Name or Slogan or Description. 
  Example 
  Search for "Websites Development in NewYork" in map search keywords

Version 1.0.1 - 16 December 2016
- New Feature - Offers Tab in Single Business Pages.